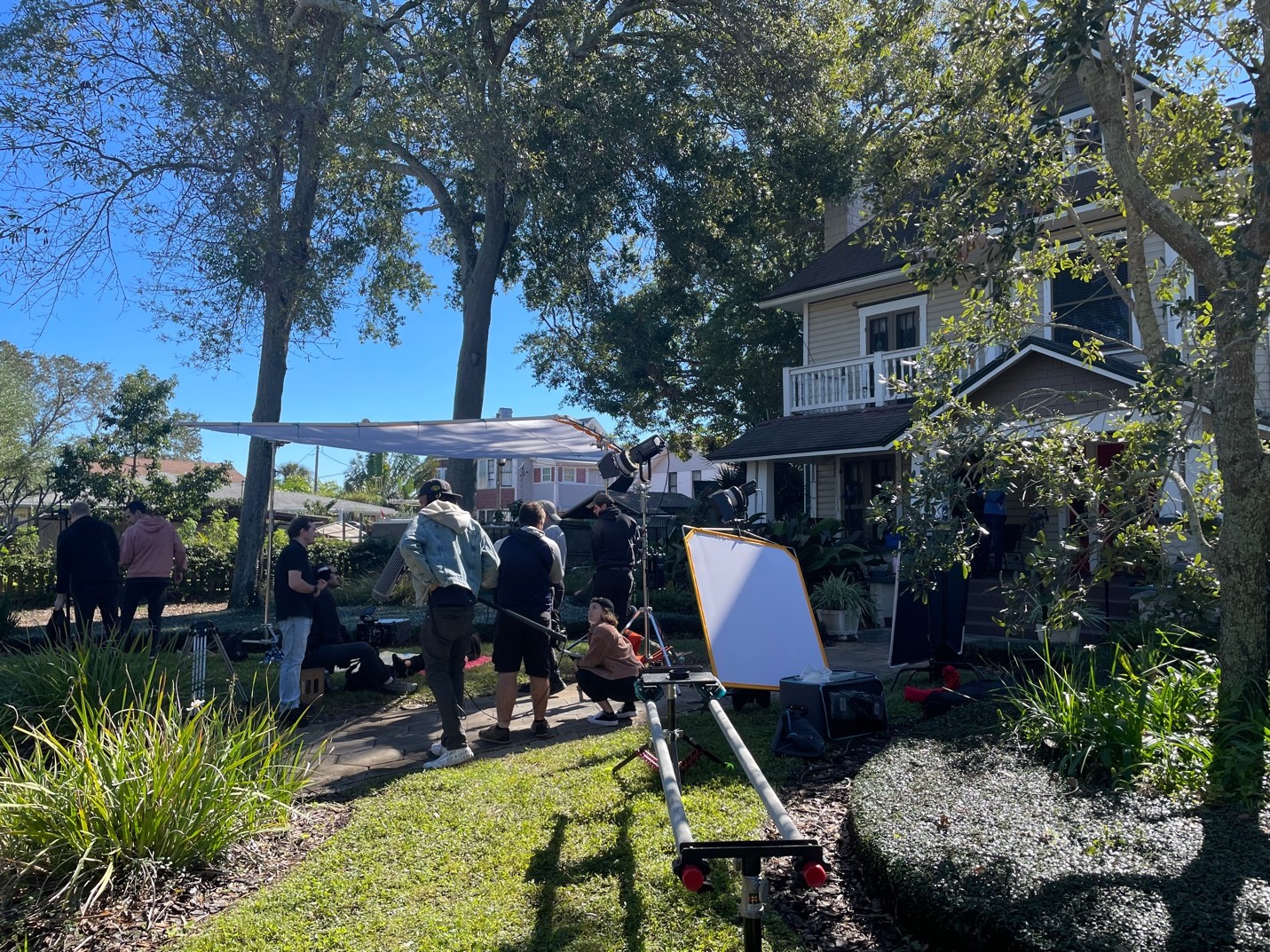 A local production company took advantage of picturesque Old Southeast as its setting for a short film with an unusual––and futuristic––twist. St. Petersburg-based Kiaro Pictures' latest project was written by artificial intelligence, and its filming took place at on the front lawn of a home owned by resident and well-known actress, Eugenie Bondurant. OSNA caught up with the producer and director of the film, Andrew "AK" Kiaroscuro to learn more about the film and why he filmed in OSE.
Kiaroscuro is the founder of Kiaro Pictures, which films and produces a variety of projects. The flick taking place in OSE, dubbed "Enough," was created by an emerging technology that only appeared within the last few months. Chat GPT is the writer of the short film, according to Kiaroscuro, who explained the artificial intelligence (AI) chatbot is one of the fastest-growing companies, with an astounding five million subscribers within the first two weeks it became available. The AI platform, which is owned by OpenAI, enables users to ask questions and receive responses from the AI in a conversational way. In this case, it created an entire script for a short movie.
"The film is a reel short, about a six-minute film, about a woman who is desperately trying to have a meaningful connection with someone, another human.," Kiaroscuro explained. "And she ends up developing a meaningful connection with this AI, but not in a weird, perverted way. The message of the film is, 'are we as society becoming more and more detached and entrapped by our technology, where one day it's possible we are going to have a more meaningful relationships with that technology.'"
This fascinating premise is all the more hammered home by the fact that it was written by AI. Perhaps the film will provide insight into this deeper commentary on the intersection of humanity and technology as this relationship continues to evolve.
As for the setting, OSE was one of a few shooting locations for the projects, but its landscape will be familiar to residents who may get the chance to see the film in the future. Kiarascuro plans to hold a private screening at Green Light Cinema down the line, as well as submit the movie to local festivals next year.