Community Character, as defined mostly by individual neighborhoods, is one of the cornerstone themes of the Vision2050 Plan. As the Administration and City Councilmembers start finalizing actual implementation of the 2050 Plan, a new debate has begun around potential zoning changes that could dramatically alter the character of St Pete neighborhoods. 
Old Southeast Neighborhood Association's Sunshine Committee, along with the CONA (Council of Neighborhood Associations) Vision2050 Committee, will be closely following newly proposed changes as they wind through the City's review and public outreach processes. 
"Unzoning Our Neighborhoods"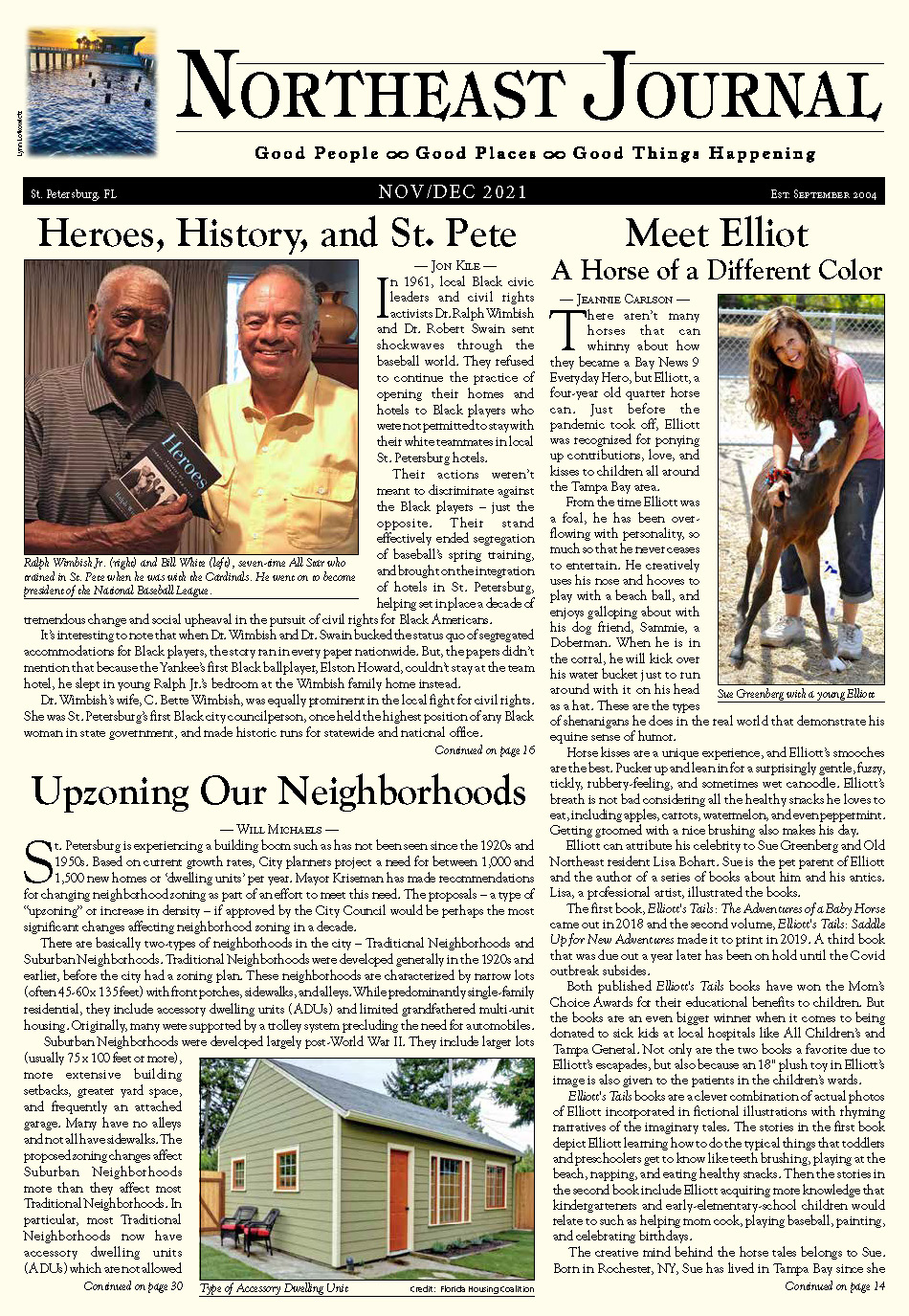 Noted local historian Will Michaels has published an excellent overview on this complex topic in a "Unzoning Our Neighborhoods" article appearing in the Nov / Dec 2021 Northeast Journal edition. It is a great starting point to understanding this important topic that could dramatically alter the face of St Pete and our neighborhood character. (Click Here to Download Northeast Journal with Complete Article)
What is HLUT? 
Overview: The Housing, Land Use and Transportation Committee ("HLUT") is responsible for deliberating and recommending policies related to housing affordability, a safe and diverse transportation network, and land use practices which promote sustainable and equitable growth.
The most recent October 14th, 2021 Agenda and Zoning presentation is at: https://cms5.revize.com/revize/stpete/2021-10-14%20HLUT%20Agenda.pdf
The 2021 Committee Members are:
Council Member Brandi Gabbard (Committee Chair)
Council Member Robert Blackmon (Committee Vice-Chair)
Council Member Darden Rice
Council Member Gina Driscoll
Council Member Amy Foster (Alternate)
What Just Happened?
At the October 14th HLUT Committee Meeting City staff presented their recommendations for new major corridor zoning. City councilmembers present voted on a motion to expand zoning corridors significantly (quadruple the city staff's recommendation). 
City staff appears perplexed and is going back to the drawing board. Infrastructure needs and even parking requirements driven by the potential zoning expansion have not yet been factored in and would most likely fail to meet County guidelines as well. There will be additional meetings to discuss the full ramifications and they will include future public outreach before anything is finalized by the City Council. At the time of this publication, we are awaiting the latest City presentation on this topic and will post it here.